Over the past decade, the plus size industry has seen significant growth and change. With the average woman being a size 14, demand has always been high, however, the clothing options have not always been available. Thanks to a collection of creative fashion minds, businesses such as Anna Scholz were established to meet the varied needs of plus size women in Australia and around the world.
The team at SISU & FINN, is pleased to announce that we are now offering a curated collection of Anna Scholz clothing.
Take a read below about why we are proud to offer you Anna Scholz; we hope you love the brand as much as we do.
WHO IS ANNA SCHOLZ?
Anna Scholz is an award-winning plus size designer who specialises in the luxury market. As an activist and designer, she is playing a key role to build on the current concept of beauty and the perfect body shape. As a plus size woman herself, Anna Scholz understands how to perfectly fit plus size and curvy women.
Being a former plus-size model, Anna started to design for herself. Later on, she expanded her work for the curvy women around her. Her dresses are designed to help plus size women maintain the originality of different body shapes. Be it an hourglass, apple, oval, strawberry, or pear shape; she designs for all shapes and sizes.  
Her big break occurred in 1996 when US giant retailer, Lane Bryant, stocked her first collection. She currently owns a self-labeled luxury brand for plus size women. As a heavyweight in the luxury plus size space, she has had the opportunity to design for many plus size celebrities including Adele, Dawn French, Lisa Reilly, Ashley Graham, Aretha Franklin, and Alison Moyet.
As a significant name in the fashion world, Anna Scholz also appears on TV shows such as The Fashion Hero, Mary Queen of Shops with Mary Portas, to provide fashion advice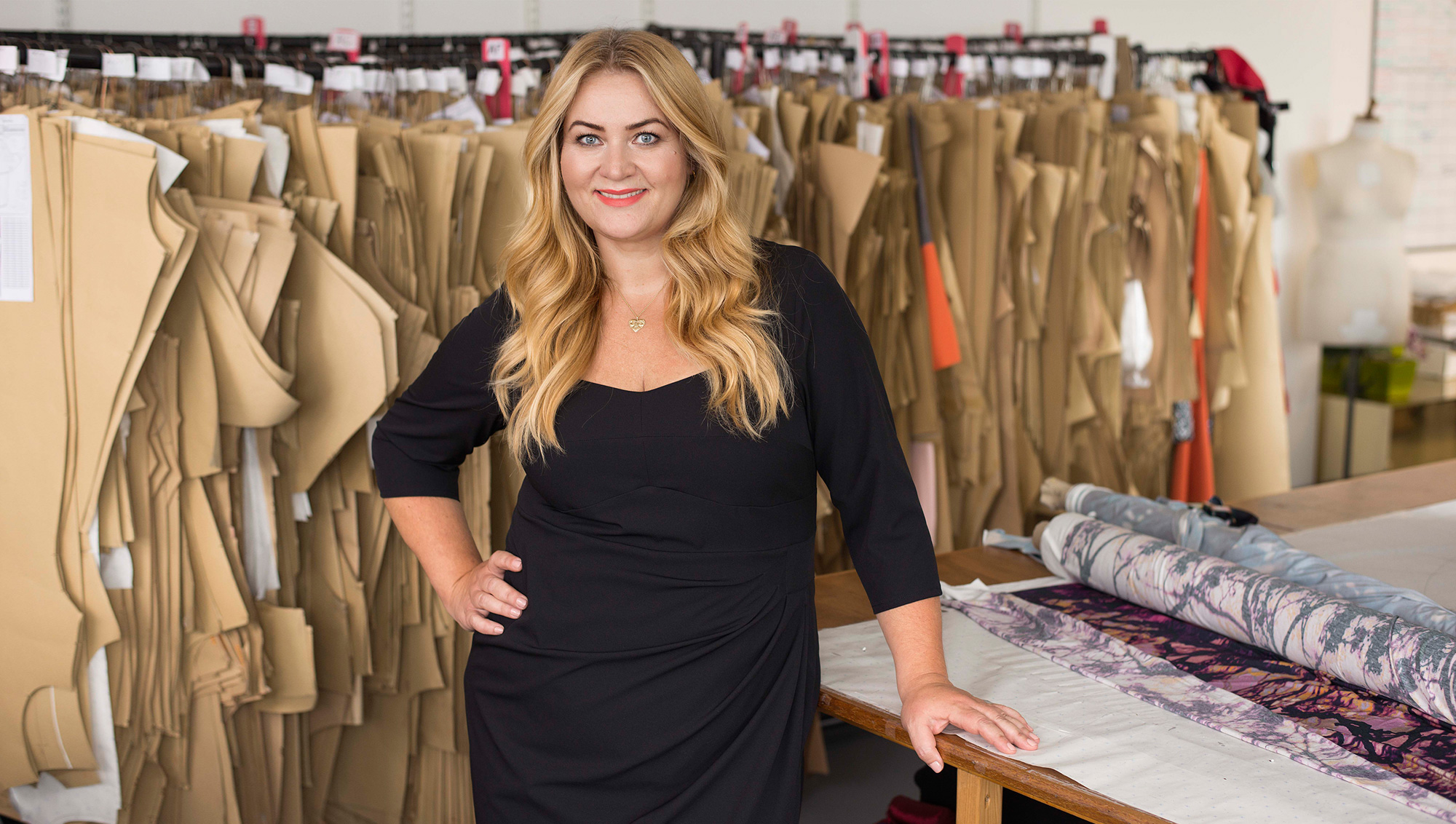 THE ANNA SCHOLZ CLOTHING & STYLE
Anna Scholz understands how to dress plus size bodies. She purposely designs to enhance femininity, glamour, and confidence. Anna's designs will empower you and help you love, and appreciate, the natural curves of your body. Her commitment to quality designs provides comfort to her customer and will always be a timeless investment. The customer knows that any Anna Scholz garment is made with thought, care, and technical ability. She believes that every woman has the right to look perfect regardless of all her curves.
According to Anna Scholz, clothing should be celebrated with all its rich colors and bold printer; her collection and designs also reflect this ideology. Anna exclusively designs bright bold print, striking silhouettes and luxurious fabrics for the plus size women. Her most loved retro prints are the epitome of elegant plus size fashion. Anna Scholz silk dress collections are always embellished intricately.
Be it her boho range, silk tunics, satin revamped tops, khaki collection or the silk kaftan, every innovation of Anna Scholz has a touch of grace. She always offers a wide variety of styles from classy to chic and can make you stunned by the vivid prints of the outfits.
The Anna Scholz Collection includes dresses, tops, knitwear, silk, skirt, trousers, jumpsuits, jackets and coats.  
FABRICS FAVOURED BY ANNA SCHOLZ
Fabrics play a key role in ensuring the right fit, look and style for a plus size, and curvy, figure. As such, Anna Scholz clothing is known for using luxurious fabrics. Her items are mostly silk and high-quality blends; a unique feature her brand is known for 
ANNA SCHOLZ SIZES (UK SIZING CHART)
As a plus size brand, Anna Scholz specializes in the following sizes: 14, 16, 18, 20, 22, 24, 26, 28. The Anna Scholz Collection is based on the UK sizing chart.
ANNA SCHOLZ MODELS
Being a well known name in the plus size world, the Anna Scholz brand attracts the interest of the world's leading plus size models. Some of the models to walk for catwalk for Anna Scholz include Ashley Graham, Aglae Dreyer, Devon Kab, Sarah Fall, Melinda Parrish, and many more.
ANNA SCHOLZ IN AUSTRALIA
Being the renowned apparel online retailer for plus size women in Australia, SISU & FINN offer you the best stock collection of Anna Scholz. The availability of premium plus size clothing in Australia is the mark of evolution in plus size fashion industry, and SISU & FINN is proud to lead the charge.
To review SISU & FINN's collection of Anna Scholz clothing, take a look here.